Halo...halo....ga kerasa yach sekarang dah Selasa lagi. Setelah lebih dari 2 Minggu jadi PRT...yang mengakibatkan turunnya berat badanku dan juga kelelahan yang sangat akut coz...ditinggal pembantu dengan 2 orang kk cowo dan 1 orang kk cewe...hehehe...but I really enjoy it...make me feels down to earth. Hehehehe
Oia, hari ini postingannya dikhususkan untuk seorang ibu yang sangat cantik dengan hati yang sangat baik pula tentunya...kenapa?
Coz, this beautiful mother had help me to designing my new blog....what a big surprise
coz, from our first conversation I just need some a little help from her....but with her kindness hearth she totally changed my blog......hehehehhe *senangnya*
Siapa dia? tak lain dan tak bukan adalah Cici Tina hehehehe....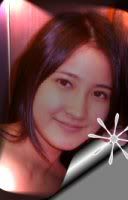 Cici Tina in action
Iseng2 blogwalking n cerita2 ngorol ngidul akhirnya diriku memberanikan diri untuk bertanya ntah gimana akhirnya gw memberanikan diri untuk meminta masukan ma ibu yang satu in...hehehe....langsung ditawarinh mau dirapiin sendiri or aku rapiin sekalian...*terbersit niat jahat dihati = mau banget hehehehhee*
Nah, jadi deh diriku mengirimkan code html blogku yang lama ke ibu satu ini...ga lama setelah ngirim egh...ternyata sudah jadi n than as you can see now! This new skin is comin from her creative idea... hehehe, ibu ini bilang backgroundnya harus diganti sesuai dengan kepribadianku yang masih ABG *gubraks* wakakakkaka...*masa aku masih ABG yach??? sumpe loe kak?
*betapa senang hatiku, dibilang masih ABG...or emang karena tampangku dan perawakanku yang imut kali yach???*
And, honestly I'm really happy.....thanks a lot yah Mommy!!!!
It's a big pleasure to be one of your new friend in this 'maya' world. Jangan bosan2 bantuin yach kak and jangan bosan ngejawabin setiap pertanyaan konyol or even mengesalkan dariku hehehe
coz, emang I'm totally blind if it works in IT *ampun*
Oia thanks juga buat promosi terselubung-nya, pasaran jadi naik nih Kak....*wakakakaka*
Once again Thanks a lot...God Bless You and Your Family :D